| | |
| --- | --- |
| SETI@home graphics | |
SETI@home graphics show information about the data analysis and about your account and team. Graphics can be shown in two ways:
In a window: Using the BOINC Work Manager, you can open SETI@home graphics in a window: go to the Work tab, select an active SETI@home result, and click Show Graphics. You can interact with the graphics: to rotate, hold down the left mouse button and move the mouse; to zoom, hold down the right mouse button and move the mouse (On Macintosh, hold down the Control key and the mouse button to zoom).
Screensaver: if you choose BOINC as your screensaver, SETI@home graphics will be shown when your computer is idle. Using the Settings button in Display Properties, you can tell BOINC to turn off graphics after a given time. In this mode, any mouse or keyboard activity exits the screensaver.
On most computers, SETI@home's graphics use the graphics coprocessor (such as NVIDIA or ATI), and don't significantly slow down computation.
Customizing SETI@home graphics
SETI@home lets you control the graphics in various ways. The procedure for modifying graphics is:
In your web browser, go to the 'Your Account' page on the SETI@home web site.
Click on 'View or edit SETI@home preferences'.
Click on 'Edit SETI@home preferences'.
The form should look like this. Fill out the form (explained below) and click 'Update preferences' (note: the form also lets you control other items, such as resource share).
You have now modified your preferences in the SETI@home database. The next time your computer contacts the SETI@home server (to report results or request work) it will get the new preferences. However, this might take hours or days, and you probably want to see the results now. You can do this as follows:
Open a SETI@home graphics window (see above).
In the BOINC work manager, go to the Projects tab, select or right-click SETI@home, and click 'Update'.
In a few seconds, the graphics will change to reflect your new preferences.
We'll now go through the various settings. The first one is Graphics preferences, a popup menu whose choices are Classic, Panels, Minalist and Custom. This controls the layout of the graphics:
---
Classic is a 3D version of SETI@home Classic's 2D graphics, with the addition of a moving starfield and a swiveling/rotating motion: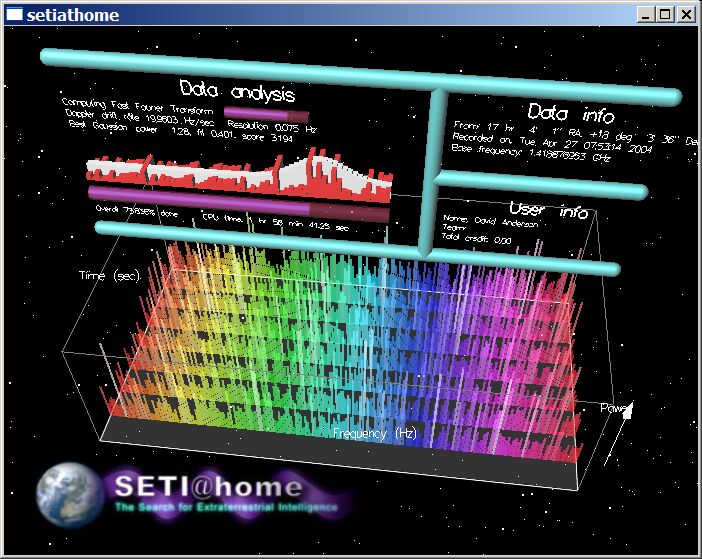 ---
Panels displays text and best-signal info on a pair of translucent rotating panels: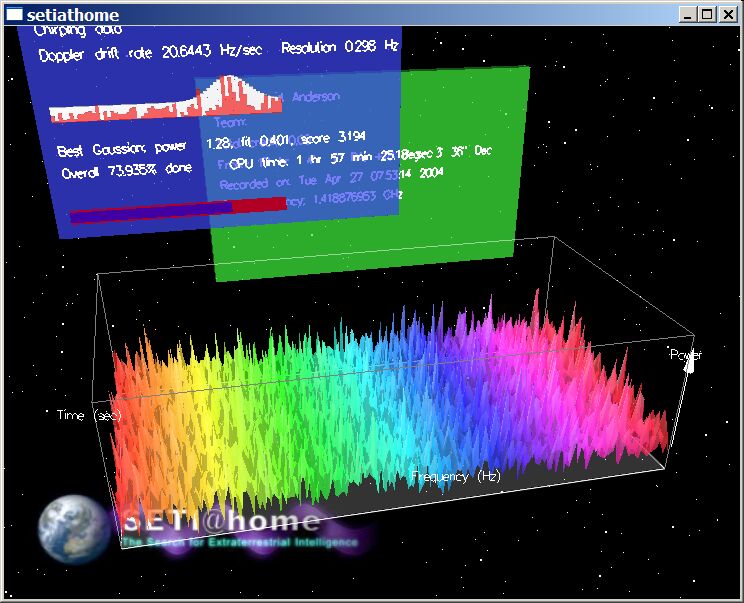 ---
Minimalist uses a 'heads-up text display' and omits the starfield.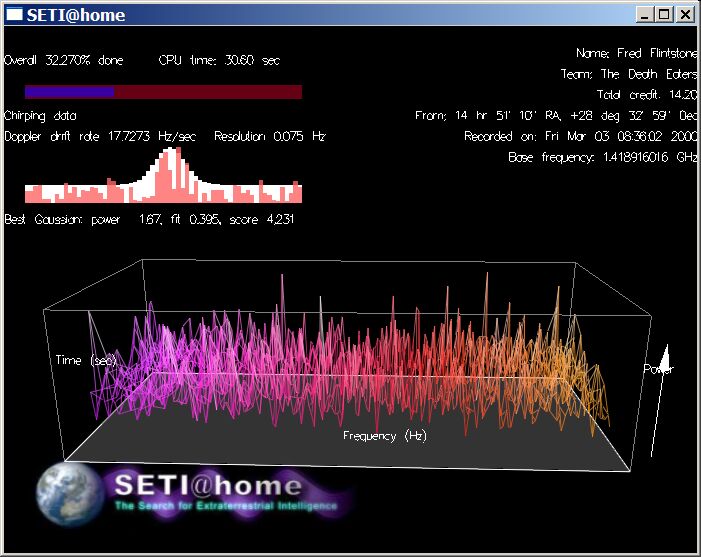 ---
The next control is Color preferences, a popup menu whose choices are Rainbow, Desert Sands, Tahitian Sunset, Water World, and Custom. This determines the color scheme. Rainbow is shown in the above examples. The other choices are:
---
Desert Sands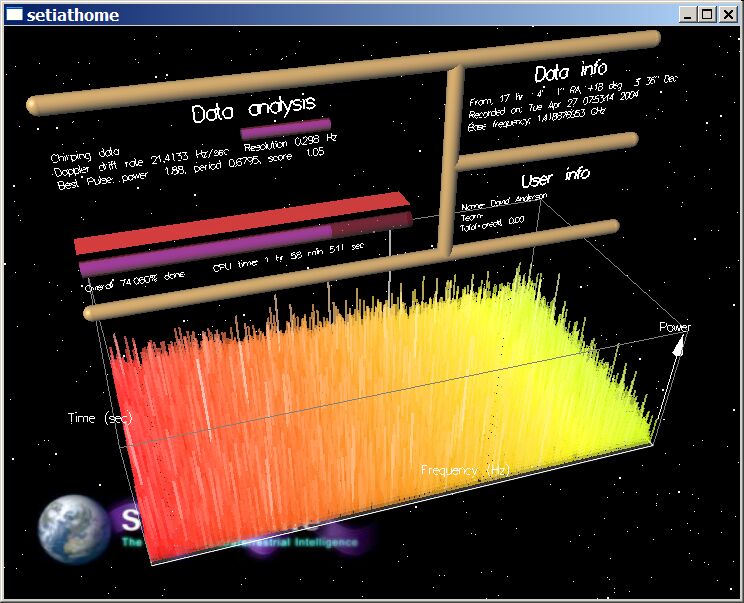 ---
Tahitian Sunset
---
Water World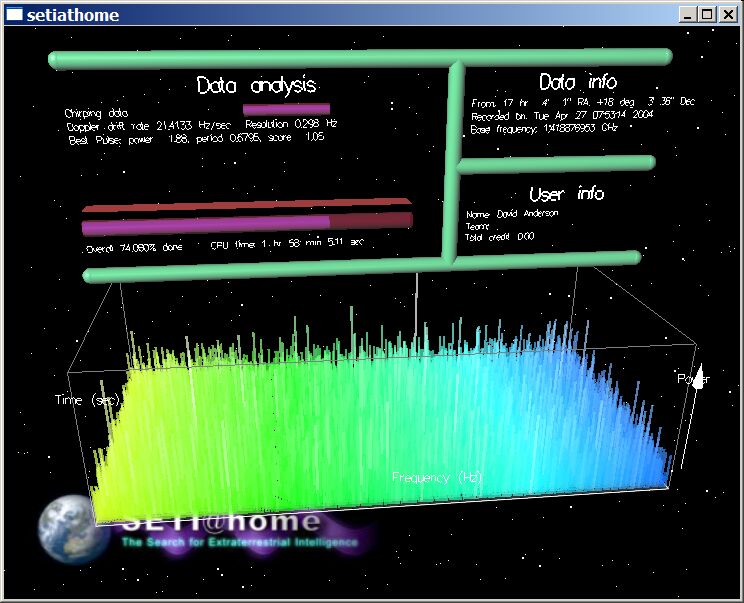 ---
Choose your own background
You can specify a JPEG image to be shown in the background of the graphics. It must be online (i.e. it must have a URL). Paste the image URL into the preferences form. Here's an example: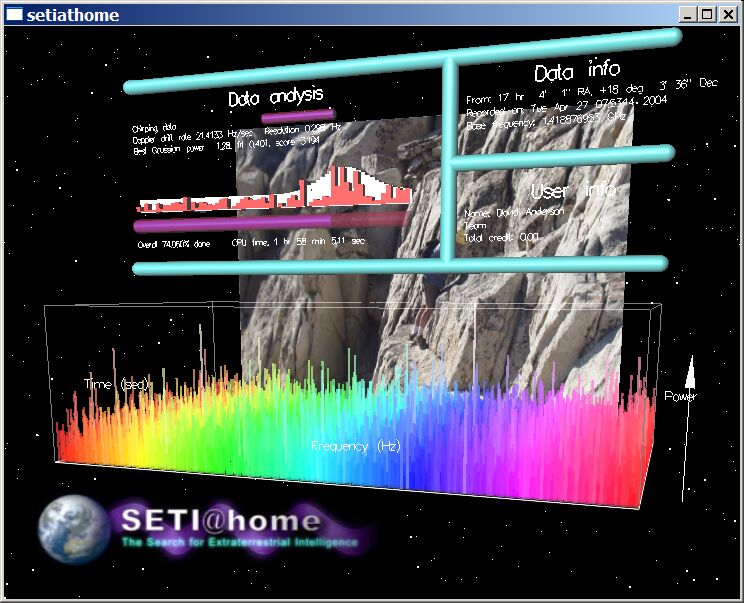 Choose your own logo
You can also specify an image to be displayed as a logo in the lower right corner. Same rules as for the background. Here's an example, with the logo of The Knights Who Say Ni!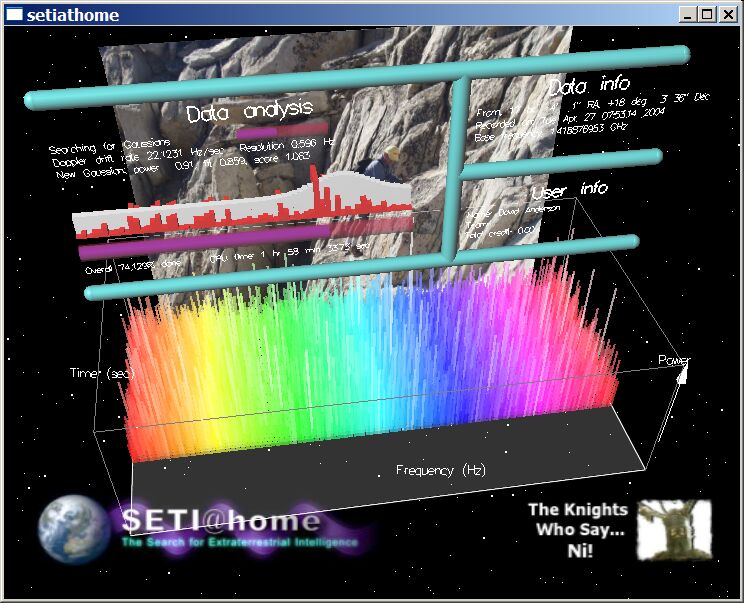 Advanced customization
But that's just the beginning! If you set your graphics preferences to Custom and then edit your preferences again, you'll get a new range of choices:
Text style: determines how text is displayed

Pillars: 3D with cylindrical dividers
Heads-up: 2D
Panels: 3D on rotating panels

Graph style: determines how the 3D graph is drawn

Rectangles: vertical rectangles with small gaps
Surface: continuous polygonal surface
Wireframe: lines
Planes: vertical planes

Maximum frames per second
Maximum CPU% for graphics (the frame rate will be reduced as needed to obey this).
Graph grow time (the number of seconds it takes the 3D graph to grow from back to front)
Graph hold time (the number of seconds the 3D graph remains at full size)
Transparency of surfaces
Horizontal oscillation period (how long it takes for the 3D graph to swivel back and forth. Set this to zero to turn off swivel.)
Horizontal oscillation range (the angular range of the swivel).
Vertical oscillation period (same, vertical swivel).
Vertical oscillation range
Number of stars (controls the starfield)
Speed of stars (can be positive or negative... experiment!)
Advanced customization of color
To fine-tune your color scheme, set your Color preference to Custom, then edit your preferences again.
First, a quick explanation about color. 'Hue' is number, ranging from zero to one, that determines color; 0.0 is red, 0.2 is yellow, 0.4 is green, 0.6 is blue, 0.8 is violet, then it wraps around to 1.0, which is the same red as 0.0.
You can set the following:
Start hue in graph: This is the hue of the left edge of the graph.
Hue change in graph: This is the change in hue as you go from the left to right edges of the graph. It may be positive or negative. It can even be greater than one or less than minus one (this gives a multi-rainbow effect).
These numbers determine other colors: the dividers in Pillars mode are given the color of the graph's midpoint, and the panels in Panels mode have colors that are 1/3 and 2/3 of the graph range.

Copyright © 2016 University of California